You'll reach your goal faster if we steer because we take into account your rails
"As long as you think the problem is out there, that very thought is the problem ." Stephen R. Covey
How can you profit with us?
We design our own project management in a compliance-culture way. Regardless of which stage of development your company stands at we will pick up from there. You will reach your goal faster as we retrieve the utmost out of your project management.
You will save tiresome detours and accelerate the development of the project-oriented working method as well as the whole project culture.
How we can support you
Our problem solving approach follows the Graves-Value-System. Businesses are as variable as people are therefore need to be directed accordingly. It does not mean that a previous successful strategy may be the right one in another project. The Graves-Value-approach tends to basically work on the requirements for the modification and implementation of the new organisation's values and structures. Thereby, the changing measures depend on actual development level and progress of the company and the target change.
An external backing helps by showing your company a binary perspective. First of all you have an expert's view over the development progress , realistic changes and possible measures. Secondly, we help against opposition and conflicts by understanding a situation and solving the problem. As is the rule, you are too closely involved in the system to have a complete overview and consequently cannot perceive deficiencies yourself.
How can you determine your location and concretize your project management?
In cohesion with your organisational experience we issue an overall layout to your company project management. On this basis, operational fields and implementation measures build a foundation for implementing decisions:
Location analysis and purpose: Focused interviews and bottleneck analysis with internal organisation experts, executive workshops with (senior) managers, ...
Defining Ad-hoc measures for implementation
Establishing the basic directional decision
How can you implement measures to optimise project management?
Simply by implementing the defined moves to developing the project-management"s experience in your company we focus on every part of the organisation where there is a clear need and use for a project oriented existence:
Central work with the managers towards developing the organisation: Target, processes, roles, ...
Separate interventions for the organisational development: Backup turn-key projects, ...
Measures toward team development: Workshops, ...
Personal development: Trainings, coachings, ...
Your move first: Contact
Contact
2620 Gramatl, Austria
T +43 699 195 460 18
Achieve goals stress free with Goalscape!
The unique visual display of Goalscape helps you to identify, develop and communicate your goals at a glance.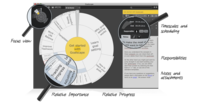 Values-based culture stages in the Graves-Value-System