Inspite of people taking different routes, they still arrive at the same point together.
"Our differences are no longer stumbling blocks to communications and progress. Instead, they become the stepping stones to synergy." Stephen R. Covey
41 year old Richard is project and team-leader in a consulting project. The project's targets are not clear to 34 year old Joanna and 27 year old Jochen. Their task is to issue a market research study in the field of telecommunications, but they feel that Richard does not explain clearly enough to give them all the information. Richard hardly ever organises team-meetings and when then there is an absence of clear objectives and results are inconclusive. Johanna and Jochen's dissatisfaction increases from day to day. Whenever they approach Richard with direct questions about responsibilities and apportioning work he reacts agitated and changes the subject. The project and team are not running smoothly. Johanna once experienced working with an external team-development support and thought it excellent. She soon inspires Jochen with the idea. Now they have to win Richard over. The project and team are in dire need of support.
Changeovers depend on a good team that has the aptitude for differentials and commonalities. The team is a social unit that is the matrix for changes in the organisation. When people work together as a team then they are not only team-members but a crucial factor that handles differences and bridges the gap between individuals and organisation.
How we accompany you
The Team Management System (TMS) cherishes the diverse collaboration work. It was developed by Dr. Charles Margerison (England) und Dr. Dick McCann (Australia) in the 80s. Above all, investigations have been carried out on how effective team-functionality is and how team member's work preferences lead to success. The Team Management System provides managers and their teams models, analysis and development concepts, such are the instruments for the team and enterprise's success or personal success at hand. The central instruments in use will be the 'Types of Work Wheel', the 'Team Management Wheel' and the models of the 'Linking Skills'.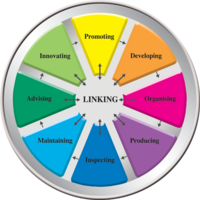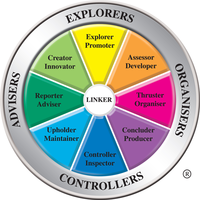 The Team Management System supports your team development:
Personnel hunt, recruiting and deploy people in teams
Team building
Team integration to shorten the stormy phases
Team analysis close any gaps in unbalanced teams and departments
Team communication and team cooperation

Effective communication and improving cooperation
Create a common language and culture for teams and departments
Management and mediating conflicts within the teams and departments

Management virtual, multicultural and interdisciplinary teams
Developing high performance teams
Your move: Contact
The types of work model and the team management wheel by Margerison-McCann are registered trademarks. We have been given friendly permission to print out by TMS Development International Ltd., York / UK. www.tmsdi.com
Contact
2620 Gramatl, Austria
T +43 699 195 460 18